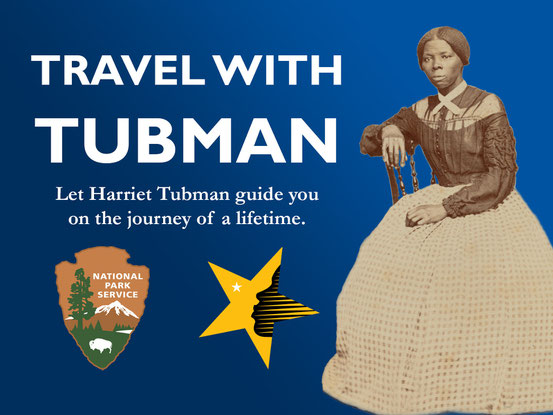 A powerful advocate, freedom fighter, and hero, Harriet Tubman's story deserves to be told in a way that matches her dynamism.
The National Underground Railroad Network to Freedom is proud to invite you to Travel with Tubman: Let Harriet Tubman Guide You on the Journey of a Lifetime. This virtual trip planning tool, hosted by the new National Park Service App, highlights 13 places important to Harriet Tubman's life and legacy. 
After liberating herself, Tubman returned to Maryland 13 times to rescue friends and family from slavery. In her lifetime she traveled up and down the east coast of the United States, during which she raised money to assist freedom seekers, served as a nurse and scout during the American Civil War, fought for universal suffrage – the list goes on and on. Travel with Tubman invites you to explore places across the country that highlight Harriet Tubman's importance in American history.
Travel with Tubman is unique. Rather than focusing on ways to plan your visit inside one national park, the tour outlines locations connected to the National Underground Railroad Network to Freedom Program, National Parks, and their partners across the east coast of the United States.
NPS App
The NPS App is the new official app for the National Park Service with up-to-date information about more than 400 national parks nationwide. Created by park rangers with visitors in mind, the app connects visitors to interactive maps, tours of park places, on-the-ground accessibility information, and much more to plan your national park adventures before and during your trip. The free app is currently available for iOS and Android devices.